Full Metal Mountain 2016 – Impressions
Inconceivable – there's a cool Metal festival near my Austrian home town, on top of the mountain (altitude 1900m) – the only "snowy" Heavy Metal festival wordwide – and then I am stuck up here in the North and cannot attend… well, luckily there were Finns visiting Austrian FMM, who share their impressions with us here.
What is it about?
Full Metal Mountain is organised by Full Metal Mountain GmbH founded in January 2015 – and one of the three organisations involved is also co-organising Wacken-Festival. The event takes place at Nassfeld, Carinthia, rating among the ten best Austrian ski areas. More than 110 km of slopes not only offer the classical disciplines ski, snowboard and cross-country skiing but also trendy sports for non-skiers e.g. Skifox. It is not only THE region of the Alps with the best snow probability but also with the most sun hours per day.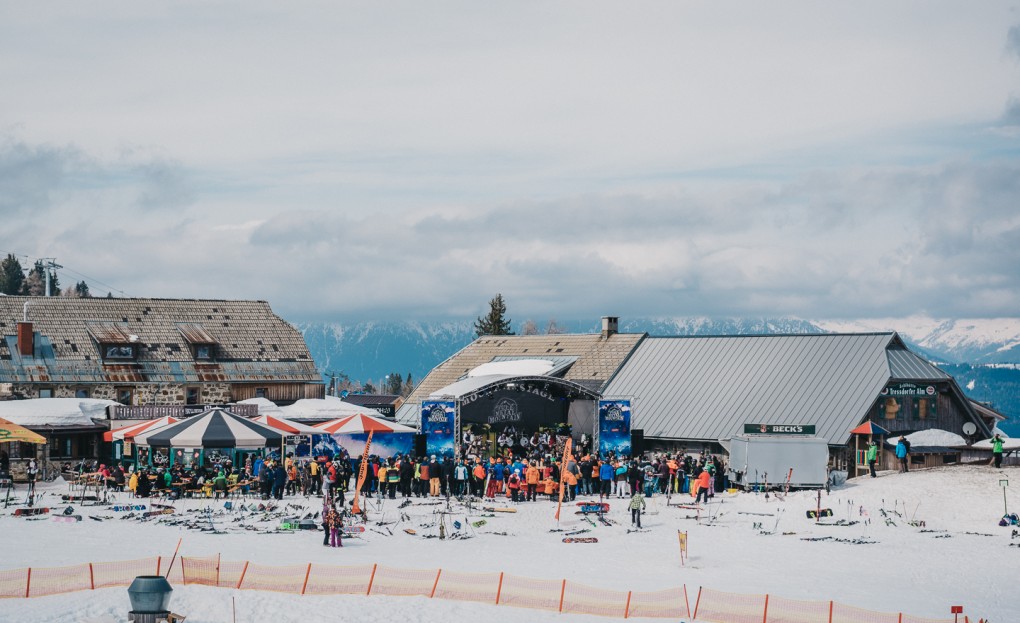 About 2000 metalheads from 31 nations enjoyed the premiere of Full Metal Mountain, five days and 30 bands, celebrating the heaviest Skiing vacation in Europe!
What are Joni Vainikka's impressions?
He has never been in the area of Nassfeld, Carinthia before (and he does not know much about the Austrian Metal scene), but "We booked our vacation because of this festival. It was great, even quite though when you have to party all night and ski all day! Compared to other festivals I´ve been for last years, FMM was smaller but still a very great experience."
What impressed him the most was, "how well everything worked on the festival, when you are used to Finnish festivals, this never stops to amaze you how easy it would be to make almost everything much better than here." Things that should be improved: "There could have been more food options. Hmmm, beer price, compared to local prices it was pretty high, but when you are used to Finnish prices, not bad at all. Band choices were bit lame for me, but anyway ok."
Bands he liked best were "Accept, even it wasn´t their best gig, but since I´ve been listening them since 80´s, they always work for me. Most entertaining gig was Gloryhammer. To mention also some other good ones:
Battle Beast,
Powerwolf, Sabaton (start photo), Gamma Ray and so on." In Joni's opinion, a festival on top of a mountain in winter has a future: "Yes, absolutely!" Would he recommend it to friends? "Yes, absolutely!"
The good news, there will be a Full Metal Mountain 2017
27. März – 02. April 2017 in Tröpolach, Nassfeld, Austria
Booking begins on 16. April 2016
more information: www.full-metal-mountain.com
Finnish delegation at FMM
photos: Joni Vainikka, FMM; the video clip was made by Joni's cousin Joonas Vainikka, thanks for the permission to use it!