Vehkala, Vantaa, Finland, June 9-10, 2017  –  photo gallery HERE
New festival, new area which can be reached by train within 15-20 min from Helsinki, and an excellent line-up. Rammstein! And the weather gods were friendly on this weekend as well. Therefore I just had to go, like estimated 30.000 other people on day one (see start pic). Which should cause some problems, but let's talk about that later. First I was wondering what was worse – taking all your gear with you and not receiving a photo pass, or being surprisingly granted one, and carrying nothing else but an old compact camera? Luckily I managed to get some nice pics with that one too.
Friday seemed to be close to the sold-out limit, and you could see that already when doors opened – a huge line had formed way before that. But then it went quickly and the audience of Royal Republic constantly increased. Quite a fun band from Sweden, reminding me a bit of Danko Jones, because of the music and an entertaining talkative front man. They quoted James Brown, Max Raabe and even a Metal-Medley (Metallica, Motörhead).
The tent stage was opened by Brother Firetribe – what to say, sunshine outside and inside with those guys. Who could resist their smiles and catchy tunes. Apropros, although Viikate rather go for an undertaker's mood and stage show, their "Rautalanka" style still pleases the Finnish crowds. Same for Kotiteollisuus where the tent seemed to small for all those excited fans.
Pain faced a huge crowd already, and people were in party mood. Surely those catchy songs do the trick as well, old and new alike (e.g. Call Me feat. a Sabaton-Joakim puppet). I noticed that the song material sounds alike too – but does not matter, Mr. Tägtgren and his dudes always get a party going. And indeed a party, people screamed for  Turmion Kätilöt way before the show started, and what a show. The new man at the mike Saku fits into the band perfectly, wearing less make-up here than with is other band Fear of Domination 🙂 …
Rammstein did not allow anybody to the photo pit – for security reasons probably. I didn't mind as I could follow this amazing show (after finding a spot where you would not get squeezed to death). And what a show – I find no words, simply a must-see. What a fantastic band! (Here some of my so-so snapshots.)
I could hear the Rock-Party sound by Infected Mushroom when walking to the station of Vantaakoski – took me almost 3h to finally reach home …
On Saturday I was still way too exhausted to make it in time for the Black Metal act Musta Paavi. When I arrived, Metsatöll had just started and inspired the crowd with Folk Metal and good mood. This flutist has an amazingly deep voice… It was obvious here and later in the tent with Santa Cruz that there won't be as many people as on the previous day. Not great for the bands, but less stressful for anybody else, I assume.
After the upcoming Rockstars Santa Cruz the senior master of Rock-Stardom Michael Monroe and his all-star team showed everybody how it's done – what a show! And later in the tent Peer Günt too were rocking hard like a bunch of 20-year olds …
I was looking forward to Guano Apes – and they should attract the biggest crowd to the tent on this day. Yet I found that the show was not as smashing as it could have been. In my opinion they put too many slower songs into the early set after an energetic start. Later with classics like Open Your Eyes the heat level got back to high, but by then2/3 of their showtime were already gone…
Dead By April and their -core were not quite my cup of tea, but the kids in the crowd formed a huge mosh pit. Not much to say about  Stam1na – I missed those beach theme items a bit – and Diablo. Both bands have awesome song material and know how to please their fans. 
Again, no photos of Evanescence – just from a distance, hence those official press pics here. I finally understood the intimate show concept. Pretty much the opposite to Rammstein's massive lights, flames etc show – a minimalistic approach, hardly any light, and the focus was kept on the music. Quite fitting for this summer night under a slightly clouded  moon. And quite relaxing in comparison to stress and chaos the night before… But I was too tired to stay longer for the party with Proteus.
Summing up – the plus side:  A new festival with huge potential in awesome location. Big area right next to the railway station Vehkala, no neighbours to complain about noise so you can party until the early morning. Plenty of food&drinks – and sufficient stuff for the opposite… Many good ideas like fan zone, an area behind the main fence, to enter for an extra fee (and the best photo pit ever), or the VIP area – but those need some brush-up. I heard that some VIPs had expected a bit more extras in their package.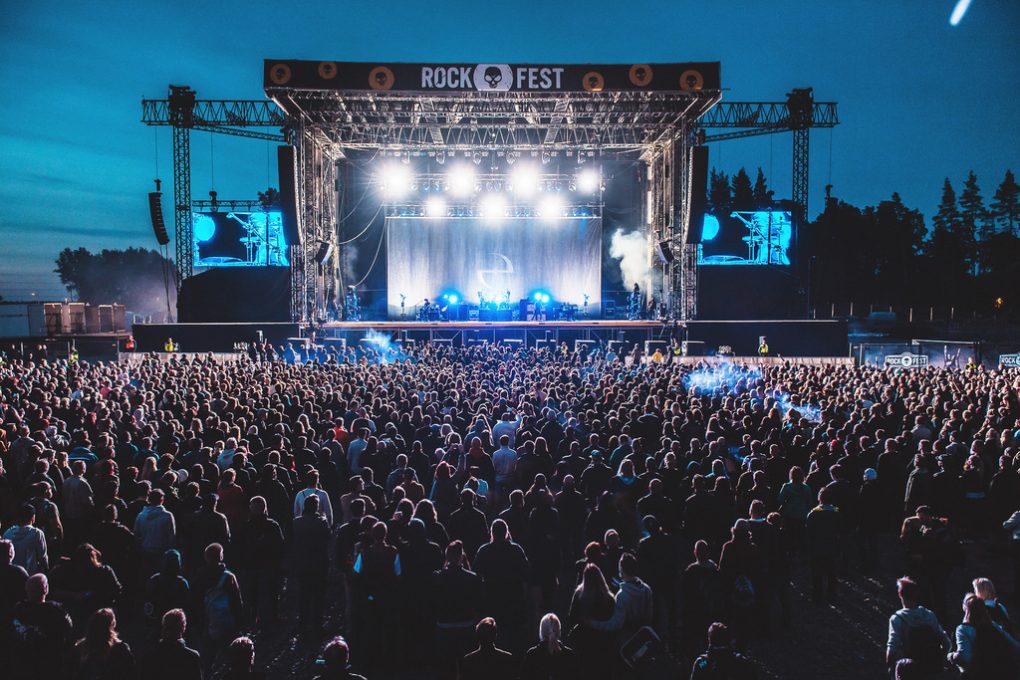 Minus: Only one water hole, the line there was longer than all the bar queues put together. The area obviously just claimed from a construction site – mud, puddles and rocky surface. Some of those rocks were really big, you had to watch your step constantly. Maybe some finer gravel paths had done the trick. The biggest problem were to get all those people back to town. Despite extra trains and a festival bus line, it was not enough to transport 30.000 people. You had to wait 1,5-2h to get to a train, or walk several miles to the next station, and I spotted only 1 bus for a line of 3-500 people. I heard some real bad stories about crushed fences etc.  Still, that's stuff to be done better next time, so let's see you again at Rockfest 2018!
Startphoto: Rockfest Vantaa skyjphoto
Evanescence-photos: Rockfest/Julius Konttinen, Henri Juvonen
Text photos Rammstein: K. Weber
Festival-Website: http://www.rockfest.fi/