Tuska 2017 – 20 years of noise
June 30 – July 2, 2017, Suvilahti, Helsinki, Finland
20 years of Tuska, an impressive anniversary of a legendary festival that started among a handful of friends on a hangover morning… and as a small club event in the equally legendary Tavastia. Nowadays it's still those bunch of friends, plus their organisation team who once again put up an attractive program with some extras. Thus they could crown the anniversary year with audience records – 37000 Metalheads altogether, incl. a new 1-day-sales record on Saturday with 14500. (And just to mention, also 2017 the police had no work whatsoever, despite all those Metalheads in a city center …)
TUSKA-FRIDAY started with Rotten Sound and Huora and then with Brother Firetribe on the main stage who celebrate an anniversary this year, too. This band always manages to brighten a sinister day, not just with the music but also Pekka's smile. Didn't help against those gashes of strong winds that almost blew the contact lenses out of my eyes, though. Yet no thunderstorms should disturb the Tuska weekend.
Another band radiated sunshine, a personal highlight of this year's festival – Anneke van Giersbergen's Vuur. A great and vocally flawless show despite Anneke's hey fever. Which was allegedly responsible for her tears. Or did the expression of love and enthusiasm from those many fans play a role as well? You simply have to love this likeable super-talented power woman and her songs, and she performed 2 of The Gathering as well. Jeeee!
Wintersun gathered a crowd that would suit a headliner act at a pretty early hour. The Mexicans Brujera and their crazy weird HC/Punk Show attracted a smaller crowd than Anneke before. The audience joined in gladly when it came to shout "Si" or "No". The heavier and faster sounds continued on the main stage with Suicidal Tendencies. Amazing to see those HC veterans feat. drummer Dave Lombardo in full action – a circle pit raged pretty much all the time on stage, and in front of it. Amazing too, how new and fresh classics like "War Inside My Head" still sound today. (KW)
Versatility has always been one of Tuska's greatest strengths, but of all the more obscure acts that have graced the festival through the past two decades, perhaps none has been farther away from mainstream metal than Pekko Käppi & KHHL. The likeable folk artist plays the jouhikko, a traditional Finnish folk instrument with four strings, and his two accompanists played instruments that looked like cigar boxes with broomsticks and two strings each. I tried to check the facts on said instruments and their players but unfortunately the band's website follows the current lamentable trend of providing no background information whatsoever. Käppi himself was no stranger to me, though, as he had been playing that same skull-painted jouhikko as a guest musician at Amorphis' Helsinki Festival Week show last summer. His own material was of course quite different, but listening to his groovy punk'n'roots performance I all of a sudden got the feeling that at least in terms of attitude Pekko and his men were not half as far from Suicidal Tendencies, who simultaneously blasted away on the main stage, as their selection of instruments might suggest. And at the same time so deeply rooted in Finnish musical tradition that their appearance at Tuska almost felt like a link that had previously been missing. By the time they concluded their set with Sibelius' "Finlandia", Pekko Käppi & KHHL no longer seemed to be the weird outsiders of the festival – instead they had just proved how well they fit in.
A crossover in a different direction will shortly be presented by Insomnium, whose upcoming gig at Ilosaarirock will be accompanied by the Joensuu City Orchestra. Since I won't be able to attend that show, I had to settle with the band's Tuska appearance, which featured no special accompaniment but was nevertheless quite bombastic. In strictly musical terms, that is – Insomnium used no special effects and the stage lighting was sparse, but they played the monumental "Winter's Gate" in its entirety, and this song, almost 40 min long and based on a novella, is like a little movie in itself. During the quiet passages you could have heard a needle drop, whereas the heavier parts kept the audience on their toes and the fists in the air. After this epic was still time for a few more songs, and the band duly played some older goodies including "Mortal Share" and the wonderful "While We Sleep". Love 'em. (TS)


I had planned to check out Finnish Black Metal legends Barathrum but found the club stage so crowded you could hardly get inside. The show was great, so I heard later. (Thanks, Sabine Van Gameren, tempelores.com, for those photos.) Devin Townsend proved his feeling for good catchy songs once again on the main stage, plus an energetic show, plus many funny faces… once again a blast. What has been bothering me is the fact that Anneke could do much more than singing just a few (guest) background vocals …
Massive riffs, ultrabrutal and evil – the Norwegians Mayhem impressed once again with a dramatic show. This time I could even capture some faces (or sort of) amidst the fog (evidence here in our GALLERY or our Flickr page). Pretty much the opposite of the headliner Sabaton and their over-the-top show and silly jokes. Well, their music might not be everybody's thing (mine neither) but live they are always a blast (literally). Joakim could do stand-up comedy: "we play some old shit, new shit and just shit". LOL!  (KW)
As my nutritional balance (read: food vs. alcohol consumption) on Friday hadn't been quite in line with mom's advice, I had a rather late start on SATURDAY and consequently missed most of Avatarium. It was the Swedes' first visit to Helsinki but I had seen them once during a holiday abroad and fallen in love with their fancy melodies, fat retro-tinged doom sound and fantastic frontwoman Jennie-Ann Smith. I only managed to catch the last three songs, but among them was fortunately my favorite, the haunting "Moonhorse". Goosebumps!
The choice between Impaled Nazarene on the main stage and Paara inside the building was an easy one, and I'm not as much referring to the rather chilly weather as to the observation that the younger generation of Finnish black metal simply sounds more interesting to my ears than their forefathers. Paara are an excellent example, having followed their promising debut EP Yön olevainen puoli (2015) by further expanding their spectrum and line-up by adding Natalie Koskinen of Shape of Despair, who already did some guest vocals on the EP. As a result, the band is now fronted by three very different vocalists who complement each other in an uncommon and interesting way that sets them apart from most of their peers. The most impressive examples were the new songs "Suon sydän" and "Kuiskaus pimeästä" with its mesmerizing "Synny paara kasva paara…" chant, filling me with high expectations for Paara's debut full-length which hopefully will see the light (or rather, darkness) of day some time in autumn.
The bathroom line after the Paara gig was so long that photo time was already over when I got to the tent were Mokoma were playing, and it was so full that there was no chance to stand anywhere but in the far back, where the sound was so muddy that you could hardly tell one song from the other, much less discern the lyrics. Nevertheless it was nice to see Mokoma again – in the past there had been times when they seemed to play every festival I attended, but in the past half decade or so I hadn't seen them at all even though they never stopped touring. Still good after all these years and crowd participation, especially during "Hei hei heinäkuu" and "Sinne missä aamu sarastaa", was as intense as back in the day, but next time I'll definitely have to find myself a better spot.
Timo Rautiainen & Trio Niskalaukaus used to be a fixture at Tuska – they literally played the festival every year, from its humble indoor beginnings 20 years ago until the band's surprise split in 2004. Even more surprising was their recent comeback, and there was more than a bit of nostalgia in the air when Timo and his four bandmates (their name notwithstanding, Niskalaukaus has never been a trio) took command of the main stage as if they had never left it. During the openers "Rajaton rakkaus" and "Kova maa" I had flashbacks of Kaisaniemi Park, and Timo himself admitted to be close to tears when he addressed the crowd. He was hardly exaggerating, as was evident during "Elegia" and "62". The set was not all about nostalgia, though, as Niskalaukaus also played a couple of brand new songs. "Suomi sata vuotta" in particular proved that Rautiainen has lost nothing of his edge. If anything, his message of compassionate masculinity is more urgent today than ever before. True strength is to care for others, to protect the weak and to stand up against fearmongers and haters. (TS)
After checking out Impaled Nazarene (Mr. Luttinen as entertainingly evil and antisocial as always, his performance even included insulting the audience for not being enthusiastic enough) and the melancholic-epic Throes Of Dawn, those chaotic Thrashers Lost Society were musically more my thing. And hell, what a show – once again. What do they have for lunch? Rocket fuel? And how do they manage to play accurately when pulling off such a wonderfully hectic-chaotic show at the same time? Since their Braindead release they do have some slower songs, too – which the audience might desperately need to recover …
I did not get to see much of Soilwork (who were great, so I heard) because I went to watch Finnish Thrash legends Mind Riot on the club stage. This legendary project founded by Mokoma guitarist Tuomo Saikkonen had reunited after more than 10 years just for this one gig at Tuska. (KW)
I had to leave my spot in front of the stage a couple of songs before the end of the Niskalaukaus gig but was rewarded with an equally impressive perspective: the Tuska team, represented by Eeka Mäkinen, had invited a bunch of journalists for a sightseeing tour around the premises and the first stop was the side of the main stage, with a great view of the large and enthusiastic crowd. We walked around the festival grounds, got treated to some fun anecdotes and peeked into the stylish Black Dining area, which due to its huge popularity was now in a larger room than before. For budget reasons I personally prefer to buy my festival food from the Alepa container, but to paraphrase Eeka, it's good to offer something for every taste and wallet. The tour ended inside another new bar/restaurant room which was part of the press area but had escaped my attention during my brief visit there the day before. The space was not only warm and cozy but decorated wich some awesome Kalevala-style artwork by master smith Kirsi Vahtera (www.routadesign.fi). Heavy metal indeed.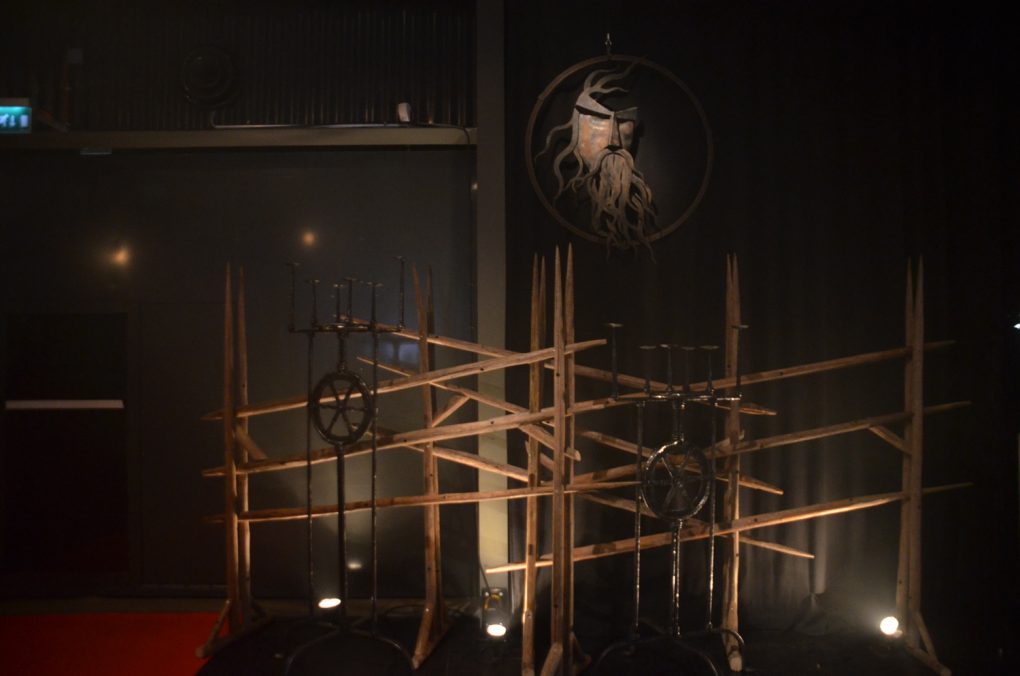 The only slight disappointment of the weekend was Electric Wizard, mostly because they suffered from the same problem as Mokoma – crappy sound. This time I actually tried different spots around the tent but it didn't get better. Besides, there hadn't been any sound issues during the Avatarium gig earlier in the day, so maybe the muddiness was simply the band's policy, just like the light show which was carefully designed to never reveal more than the shady outlines of the musicians. The side screens, which otherwise served to show close-up live images of the performers, were now used for pseudo-psychedelic projections which occasionally were cool but for the most part boring and repetitive. If I want tits and fire, I rather watch Game of Thrones, which also happens to have a more exciting soundtrack.
Amorphis play at Tuska every other year, but this time the routine was broken by the recent line-up change. Bassist Niclas had surprisingly quit the band after the US tour this spring and his replacement was none other than original band member Oppu Laine, whom it was nice to see reunited with his old bandmates. What's more, his more up-front bass playing style seems to have given the band a little kick in the right place, as Amorphis sounded fresher and more energetic than the last couple of times I had seen them with Niclas. The change didn't affect the setlist, though; it included three Oppu-era songs but its focal point was of course still the latest album Under The Red Cloud. (TS)
Demonztrator. Another legendary act to reunite just for Tuska, and providing a range of guest musicians, plus a range of styles – Punk, Metal, Thrash, Noise – they were simply fun. Had I known that any attempt to photograph Triptykon is basically a total waste of time, I would have stayed longer. Again, on this day, a contrast program – Triptykon celebrating the merciless cold sinister evil side of life, and the headliner playing Love Metal.
HIM had announced the end of the band early this year that they would go on a farewell tour, starting with several festival gigs like this one at Tuska. And this show expressed clearly why we are going to miss this band. Ville Valo in top form and good mood, a tight set with hardly any talking (only a "sleep well" in Finnish at the very end), the greatest of their greatest hits, and I noticet that so many of those were from the first album, or rarely played material (Stigmata Diaboli, It's all tears). You could spot several set middle aged Metal dudes, enchanted, singing along … The entertaining and somehow way-too-short program ended in a quite melancholic mood (When Love and Death Embrace), before the impressive fire works display. And it seemed heaven cried a few tears, too, just like those 666 times 666 fans in the area who might have watched this band for the very last time. However, another show at Helldone Festival in Helsinki is in the making … (KW)
Setlist: Buried Alive By Love, Heartache Every Moment, Your Sweet 666, Resurrection, The Kiss Of Dawn, The Sacrament, Tears on Tape, Rip Out The Wings of a Butterfly, Stigmata Diaboli, Gone With The Sin, Bleed Well, It's All Tears, Wicked Game, Killing Loneliness, Poison Girl, Heartkiller, Join Me in Death, In Joy and Sorrow, Right Here In My Arms, The Funeral of Hearts, Rebel Yell, When Love And Death Embrace
SUNDAY started a bit different than usual, namely with a discussion on literature. The panelists were Marko Annala of Mokoma, who had recently published the auto-ficticious novel Värityskirja, and Kuolemanlaakso guitarist Markus Laakso, author of an extensive Amorphis biography. The chat didn't limit itself to these two works rather quickly spread to rock and metal literature in general, and was as interesting as it was entertaining. The only drawback was that I missed most of Battle Beast, who were well into their last song when I stepped out of the dark lecture room into the long-awaited sunshine. Gotta catch their Helsinki gig in October, they were already impressive with their original singer Nitte Valo but under the reign of Noora Louhimo the Beast has become even more formidable.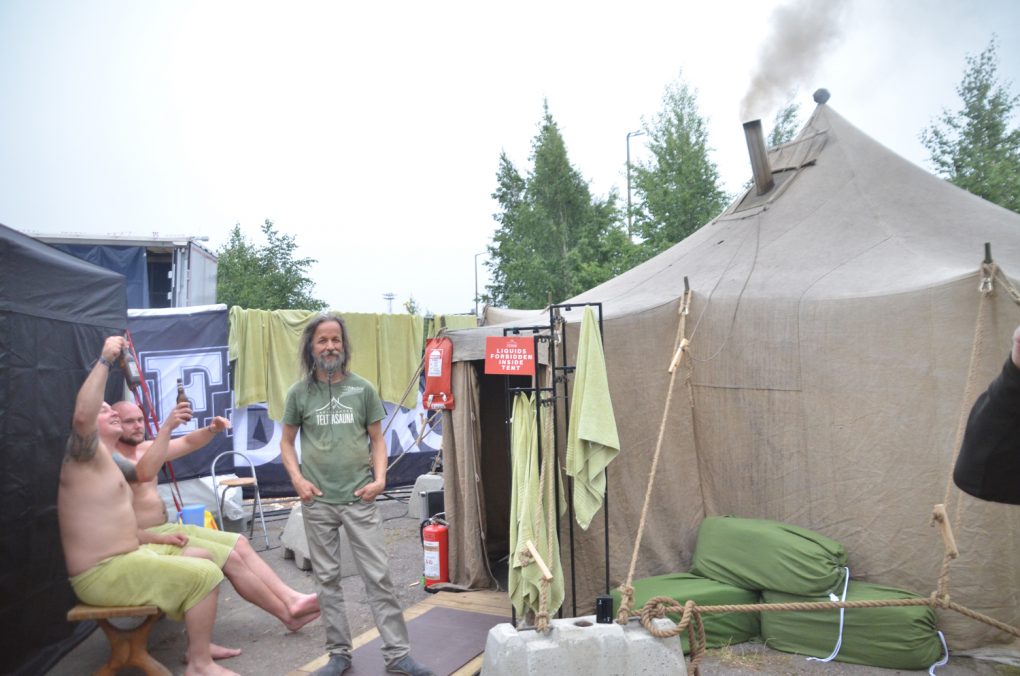 I skipped Dirkschneider for the far more tempting combination of sauna, sunhine and cold beer. As before, the sauna tent was part of the park/lawn area, although it was a different lawn this time. The festival area had undergone a few layout changes this year due to construction work at the western end, but the new arrangement was just as nice and the lawn had both sunny spots and trees for shade. A new addition was a second tent next to the sauna, where a traditionally-clad healer performed kuppaus treatments, an ancient Finnish cure which involves draining blood (and possible evil spirits) from the patient. I didn't entrust myself into her care myself but saw several people walk around with bloodletting marks, so the new service was obviously well received.
The next band for me was Baroness, whose new lead guitarist Gina Gleason is the latest addition to the slowly but steadily growing ranks of female instrumentalists performing at Tuska. The other members of the quartet around frontman John Dyer Baizley (who recently had the honour of curating Holland's famous Roadburn festival) were likewise a joy to watch – and to listen to, because this time the sound in the big tent was crystal clear again. I must admit that I'm rather undereducated when it comes to American bands and I had never familiarized myself with this one, but the show left no doubt as to the rightfulness of their legendary status. Hope they'll be back for a club show some day. Definitively one of the highlights of the weekend!
There are some bands that I thouroughly enjoy seeing live but wouldn't listen to at home in my living room – today's Battle Beast being a prime example. Turns out that the opposite exists as well – I like Oranssi Pazuzu a lot and have their albums on my vinyl shelf, but for some reason their gig simply didn't work for me. Maybe simply because after the melodic Baroness the contrast was too harsh, but after trying to enjoy their noisy show for a while I started fearing that it would give me a headache, and Apocalyptica in the Sunday sunshine turned out to be the much more favourable alternative. (TS)
Dirkschneider and his crew celebrated Metal history with e.g. London Leather Boys, Midnight Mover, Princess Of the Dawn, Balls To The Wall, and Jimsonweed feat. Suho Superstar and Sami Yli-Sirniö did the same with their Stoner Rock hits. And the same with Apocalyptica who restricted their program to Metallica stuff only (celebrating the anniversary of their debut album). No wonder the crowd was thrilled and happily sang along, which caused the emergence of gooseflesh several times, despite the bright sunshine… The same goose flesh turned up again when watching Sonata Arctica performing the I Have A Right song. But there was a lot of fun on stage too, e.g. Tony Kakko sitting down at the front stage to conduct the audience choir for Full Moon.
Mastodon proved once again why they chose this band name. Monstrous, massive, earthquake-inducing, all those riffs and drums, sound waves ripping through your body, but still you feel hypnotized by those melodies – a mighty and worthy round-up of this year's festival and the anniversary Tuska. Thanks and CU next year! (KW)
Setlist: Sultan's Curse, Divinations, The Wolf is Loose, Crystal Skull, Ancient Kingdom, Bladecatcher, Black Tongue, Colony of Birchmen, Ember City, Megalodon, Andromeda, Show Yourself, Precious Stones, Roots Remain, Chimes at Midnight, Steambreather, Mother Puncher; Blood And Thunder (encore)
MORE PHOTOS IN OUR GALLERY       photos: Klaudia Weber, Tina Solda
Contributors