Hamburg Markthalle, 22.-23. September 2016
It´s already 5 years now, that year after year the Hamburg Metal Dayz are taking place – and it feels just like yesterday that I worked in the organization of the first edition. In the meantime, the festival has grown a lot, and has more and more also turned into a networking event for professionals. The split between professional viewpoints and great shows for music fans has seemingly worked here rather well.
Day 1 – The Markthalle only filled very slowly, only the real fans already had claimed their places in the front row really early and got their first musical treat when NOTHGARD made a start into the evening with a load of power and joy. It´s seemingly been an honor for the band to be there, and with their sympathetic and honest presence, as well as their rocking music, they managed to steal the audience´s hearts and get the first into headbanging. If anyone dislikes a bass sound that makes its way to your tummy and tickles your stomach – you should´ve stayed away, because partially it´s really been heavy.
It continued with HEIDEVOLK, that you were able to see already in quite a few other events here at Markthalle – but that´s nothing that could´ve bothered the fans, and it once again was a great atmosphere and mood. Flying hair wherever you looked, and the band did not really need to tell the audience to support them by singing along or clapping – the crowd did it just as if they had never done anything else. All in all a show that really caught everyone, bringing a great mood and a smile to the audience´s faces everywhere. It´s been a pleasure once again!
Before the event I had wondered how RUSSKAJA might be fitting into the lineup. Music wise? Not quite. Mood wise? Clearly a jackpot, because the mood was amazing and the audience was dancing and having fun. You could see that even the sceptical ones lost their grumpiness after a while and started appreciating this unique band – a massive amount of hands in the air, happy faces and smiles – as a band you therefore need to have just as much fun on stage as Russkaja had. As a whole, this show has been an experience – if you feel like needing a repetition or not, that´s open. But it was something different that remains remembered.
When picking up cliches, EQUILIBRIUM, who played afterwards,  fit better into the big picture of the event. Many of their fans were present who really gave their best and sang along as if there was no tomorrow. You could see the fun on both sides, on the band´s faces and in the audience – also, the song choice did make me and the rest of the audience happy and the mood stayed up throughout the show. This was coming with headbanging and celebrating, and most people seemingly forgot that Equilibrium were not the last band of the evening – because after a longer and last break, PRIMORDIAL were ready to rock the stage.
The mood was great, even though some fans clearly showed their lack of stamina already – the temperature in the venue had risen quite high. The band presented a set that made the fans happy, yet did not really reach the general audience who were not particularly attending for Primordial. Those were standing at the sides with crossed arms or a beer in their hand, silently and motionless watching what was happening on stage.
Day 2 – Day 2 of the Hamburg Metal Dayz started even less promising than the first day – the venue was even less crowded, and it took quite some time until the audience dared to come any closer to the stage.
One could conclude that death was certain if they would come any closer, but it´s just been GODSNAKE opening on this day. And they gave their best to get everybody into a good mood. It´s always sad to see when a band really gives their best and really has fun on stage, the music has potential and then the audience just does not do anything – because that was the case here. Godsnake clearly deserved a different kind of crowd – but that´s what you gotta put up with when you get on stage on a Saturday before 4pm.
Not really much more enthusiastically welcomed were STEAK NUMBER EIGHT – the band from Belgium managed to lure the audience a bit closer to the stage, yet no sparks were flying  between band and crowd. A few fans in the first rows were rocking out, but the majority remained silent and motionless and rather enjoyed a trip to the bar than giving the band a chance. The band really has potential, and would´ve surely had much more success when playing at a later time of the day.
In between the two bands I sat down and watched a session with artist TIM ECKHORST, who´s been talking about do´s and don´ts when it comes to graphics in the metal music. It was really fascinating to see which bands simply took some random font and used this as their logo – not thinking about the fact that some other bands might have just the very same idea…
Even though it´s been really interesting, the show of ORDEN ORGAN was calling for me so I dived back into the photo pit again. And saw that it had become much more crowded than it had been before. Good mood? Amazing mood! The audience enjoyed the show, and the band did not any less. There was headbanging, singing along very loudly, and all of this happened to kill the band´s fear of being so early on today´s billing. A great show that just had to bring a smile on your face – there was no other way!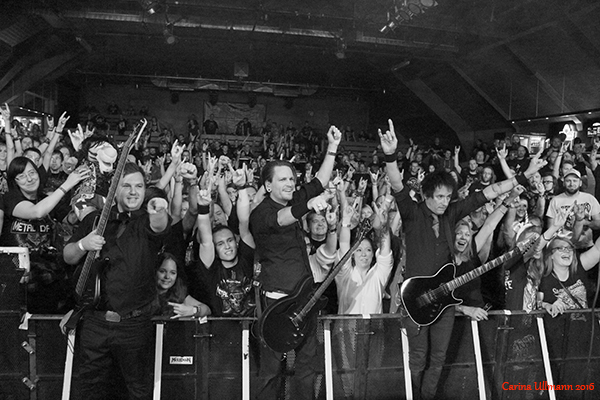 It got a little less enthusiastic with PYOGENESIS, who had quite a few fans in the audience but the mood did not come anywhere close to before. I really couldn´t find the reasons for this, at least not with the really heavy songs. Maybe the mix of heavy songs and those where headbanging was not possible was not ideal – but it also could´ve been something else. For me, the setlist was well decided on, so no point of criticism here.
Yes, I kinda asked myself where the hell I ended up – GLORYHAMMER stormed onto stage and the crowd seemed to have a load of fun. Blow-up hammers, dressed up fans – it was quite fascinating to watch, and also music wise the band managed to get everyone enthusiastic. It was a party with sing-along, with hair and fists in the air… no matter if it was someone´s initial music taste or not – it was just a fun time!
The end of the Metal Dayz was coming closer, and I had to make a decision: who would I watch – DAD or THE NEW BLACK? First I had a glimpse at The New Black in the Marx, and then it was all decided (even though I really had planned to go and check out DAD afterwards) and I stayed to watch and to headbang and simply enjoy the music like all the fans did. Because if the energy that you could see on stage did not inspire you, you would have been simply too exhausted and more of a zombie than a human. You had to sing along, headbang, go along, you were sweaty but there was no way to leave any happier on this day.
Fotos: Carina Ullmann