Tim Burton exhibiton: Dark humour with stripes
Opening night 14th August 2018, C-Mine museum complex Genk, Belgium
Lovable monsters, familiar creatures, beloved movie characters and their ghostly pets and outofthisworldly companions, created by a great mad-haired individual: Tim Burton. Until 28th of November you can immerse yourself into the darkly wonderful imaginative storyland by visiting Genk, Belgium, and the C-Mine museum complex, in order to escape from the modern crazed world.

Tim Burton's world-famous exhibition has now reached this European town, landing at the C-Mine, a former mining complex turned into a creative base, complete with Luca school of arts, a large cinema, multiple installations and post-industrial charm! Especially for the duration of this exhibit the museum, together with the town of Genk, have prepared all kinds of activities to enrich your visit for a full Burtonesque experience, regardless of age. If you were not a fan of Burton's art already, visiting this place will certainly turn you into one.
To the mainstream public Burton is known as a film director, who often favors the same certain iconic actors and composers in his productions with dark themes and stripy outfits: Beetlejuice, Batman, The Nightmare Before Christmas, Mars Attacks!, Corpse Bride, Sweeney Todd – just to name a few. However, now with this exhibition on the worldwide tour, you can dive into his works as a painter, illustrator, author, photographer, doodler and a fellow bar frequenter – "Napkin Art of Tim Burton" (Things you think about in a bar) made it into a whole separate book, excerpts of which can be seen framed on exhibition.
Among some other works is a very graphic and literal execution of a number sequence from 1 to 13… Creepy but colourful and very understandable, as much for twisted kids as for the adults, if not more.
Same as in previous editions, the exhibit is split into a few sections by themes, including holidays, travels around the world, gigantic polaroid snaps, Carnivalesque theme and some others. Especially interesting to see the highly exclusive multimedia-exhibiton of books, which Burton commissions for each one of his film productions. Those books are strictly made for the cast and crew only and gifted as memorabilia of the filming process with lots of personal remarks.

Additionally to the drawn graphic works, there are installations, video projections, sculptures, dolls, puppets and parts of previous sets. All so detailed and life-like that you inevitably feel like one of the animation puppets yourself in the spooky setting. So, to sum up, dark humor with stripes and everything nice….
It is a very inspiring exhibit on many layers, bringing you closer to the beloved characters you've already met through his animations and movies, and some less known or ones never seen before (from the Unrealised Projects section) which you can still very easily relate to. Seeing his drawing style so close and getting to know his not so easy journey in the film industry does not just encourages your own creativity, but also makes it very ok if you feel like a misunderstood oddling yourself. Just have a look at the caringly preserved and now framed rejection letters Burton got in his time from Disney when looking for work.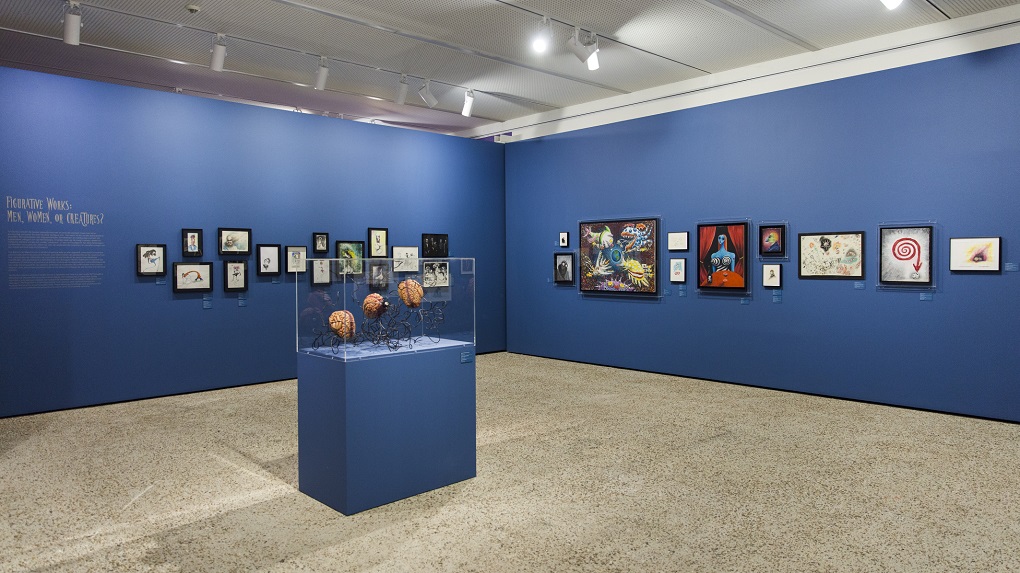 Although the exhibit has been on the road for a few years already, including Tokyo and the MOMA in New York, there are some new additions to the show. For example, some from the more recent Burton production of "Miss Pelegrine's Home for Peculiar Children" – the figurines, props and the mutant dolls.
Especially for this exhibition, a very realistic Sandworm figurine was produced in Belgium, as instructed by Mr. Burton himself via telephone. The stripy creature is waiting at the entrance, and though he looks like he's about to eat you, he's there just to highlight the entrance and welcome the visitors in.
Also specially designed and built for the exhibit is the Burton Café, made in the style of the Big Fish's town Spectre. You'll instantly recognize it by the hanging shoes and little lanterns, inviting green grass and cute little tables.
For your savory pleasures, two local chefs are exclusively there to cook Burton-themed local delights with a hint of local Flandrian flare – try Scissorhands cheese waffles or Nightmare of an ice cream (which is actually tasty strawberry). The educational program offers lectures and courses, including one from Jenny He, the curator of the exhibit.
Music events which feature soundtracks to the animated pictures and films will be performed live by Michelino Bisceglia. For an outdoor activity, go for the Crazy Tea Time Picnic to enjoy on the lawn outside the museum. With a purchase of the special themed package from the museum, you'll get to enjoy the afternoon in style with full set done in TB style (if only just for the stripy blanket alone!)
Not to miss: The great visionary will be visiting the museum himself from 28th to the 29th of September! You'll have a chance to buy tickets (be quick though!) for a personal Q&A with Maestro himself, however sitting is limited and tickets are expected to sell out quickly. Tim Burton will be visiting the museum to give a few welcome speeches, host his favourite films' viewing at the site's own cinema complex and meet the students of the attached creative school of arts Luca.
Text & photos: Marina & Uwe Minkler
Photos of the exhibition see image credits