FINNISH DEATH METAL MANIACS 2017
June 2-3, 2017, cultural center Annis, Pori, Finland
guest reporter: Nina Ratavaara
The weekend of June 2-3, Pori called for the second (and last, as organizer Immu told) edition of the Finnish Death Metal Maniacs festival. Friday started off at Annis, a cultural center in the middle of Pori that is decorated with very colorful, almost psychedelic paintings inside. Just the right setting for a weekend of harsh death metal with some of Finland's prime death metal acts and a few select bands from abroad.
After the 4-hour bus ride from Helsinki it was time for some predrinks which meant I made it to Annis just in time to see Corpsessed (start photo) on the main stage upstairs. The band delivered a brutal set that immediately made it clear that this weekend wasn't about pretty frills and lavish opulence but straight forward death metal. The upstairs got quite crowded and the audience let themselves be carried away into the abyss.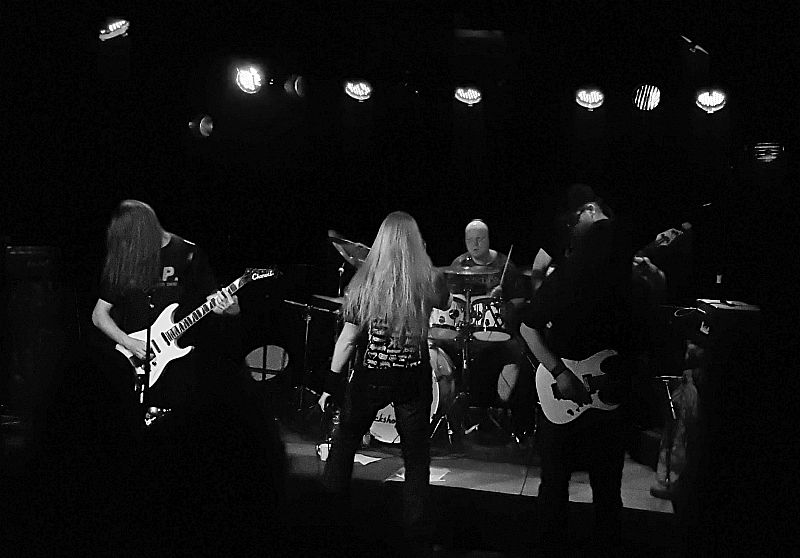 After checking out Spirit Disease Plays Death (photo) who delivered some more good death energy on the downstairs stage which filled up quite fast once Corpsessed had ended, it was time for a short beer break outside. Not outside because the weather was so warm and lovely, no, it was quite chilly once the sun was gone, but because the beer area was located outside as the venue itself did not sell any alcoholic beverages. Well, at least the beer (and sometimes yourself) was cold!
Pestigore (photo) were the last band at Annis that day and one could tell they were in a good mood, enjoying playing this show. This vibe electrified the audience, and Pestigore just got heavier, and more and more into the groove of things throughout the set. The only thing I could think was: "Damn, death metal is such a great thing!"
The evening didn't end there though but continued at Kino, a former – you guessed it – movie theatre now turned nightclub close by. Death metal under a disco ball and gleaming lights, why not.
The After Party started with Moondark (photo) from Sweden who played a very tight and heavy show that involved lots of headbanging both on and off stage.
The night continued with Black Crucifixion, Death Strike and Phrenelith – what a package!
For some Saturday started early with the Death Metal Flea Market at Annis, for me it started slightly slower so I was there in time to see Undergang from Denmark on the downstairs stage. And that was something: As soon as you entered you were not only embraced by the stuffy warmth and air devoid of oxygen but also by a heaviness of sound and the deep, low growls that seemed to be conjured up directly from some ghastly, demonic depths.
The evening continued with Vorum (photo), again on the side stage downstairs where fresh air still was a rare commodity. But Vorum made you forget all about that when they unleashed their raw energy onto Pori, and played a violent set full of anger that recharged the crowd for the night to come.
The next bands Ride For Revenge and Galvanizer fell victim to a beer and socializing break outside – too bad one cannot be in two places at the same time as I heard Ride For Revenge absolutely destroyed. Next up were Witchcraft who played a special Beherit set on the main stage. The air was heavy with anticipation, and an old school vibe took over the room to the delight and applause of an excited audience that really went for it.
Funebrarum kept the intensity going on the side stage that was bathed in red. From them playing Abhorrence songs to David from Phrenelith joining them on stage, it was another impressive performance.
Upstairs it got crowded for Rippikoulu who kept things low and deep with songs like Kuolematon Totuus. Both audience and band seemed to have a blast, such a good atmosphere everywhere!
Profetus (photo) ended the Annis part of Finnish Death Metal Maniacs on a calmer and gloomier note. Starting off with a smaller audience that grew during the set and a stage doused in blue lights, the meditative doom tunes slowly rolled through the room and resonated deeply after the day's raw death metal performances. A moment to catch one's breath and linger before the night ended at Rock Bar Monttu with Barathrum, Necromonastery and Huoripukki and a couple more drinks. Kiitos Immu for a fantastic weekend!
photos: Nina Ratavaara