Ne Obliviscaris: Skeletons in the vault
Australian Prog Metallers Ne Obliviscaris have not only been one of those acts whose excellence make your jaw drop, live as well as on CD, they are equally inventive in creating a better environment for independent bands and have put a lot of effort into the Patreon approach *. And the first dates for their return to Europe can be revealed… What else is happening? Bass wizard Cygnus fills us in:
A lot has happened since the last interview – you've found a record company for the second album, went on several world tours – the first one financed via crowd funding. You have just been touring with Cradle of Filth again in the United States… Please describe a typical day on tour/ hours on a band bus etc – how do you spend your time with, which music you are listening to?
A typical day on tour consists of driving through the night. Arriving at a Walmart or large service station in the morning, because they are really the only two locations you're allowed to park the bus and it's a place for us to occasionally shower and buy groceries or refuel. We then get to the venue around 3pm for load in and wait until COF and Butcher Babies have set up and soundchecked. We play. Take turns at selling our own merch throughout the night. Sign cds. Take photos. Go back to the bus and repeat! I mainly spend my spare time on the bus watching movies on my laptop or listening to music. If there is a gym in the area I try and get a workout in but that has been a rare occurrence on this tour compared to Europe. The music I've been listening to mostly this tour is new Abhorrent, After the Burial, Oceans of Slumber, Jakob, or my own music. I compose a lot of music so I often listen to it and think how I can make it better or add to it etc.
I have asked about your influences before – but what had made u pick up an instrument, decide to become musicians in first place? A particular song or band, a family member?
When I first heard Frenzal Rhomb's – Meet the Family album I decided to start playing bass. It was the first time I ever heard Slap bass and I was hooked. I wanted to recreate that sound. It was so funky and aggressive. I never liked the high pitch whiny sound of the guitar when I was younger so bass was my calling. I wanted to be a drummer but my Mum said it was too loud for the neighbourhood. So bass was my second choice, and she bought me a cheap bass for my 15th birthday. I now play bass, guitar and drums.
You had a couple of headliner club shows in the US too, at very short notice (due to COF visa problems) – how come, who made it happen, and what happened at those gigs?
When COF had visa issues we were not sure if the tour would go ahead or not. And we had the night to decide if we were going to catch the plane or not. As flights were already paid for, we bit the bullet and caught the plane. We figured worst case scenario we can have a holiday in the USA and play a couple of shows if the Visa issues got more complicated. We found out that the Visa issues were sorted and COF would be meeting up with us a week later. So it was a mixture of local promoters and Tim working together to create some headline shows in the mean time until we met up with COF. The gigs were great! So many passionate fans coming down and supporting us. We really couldn't ask for more on such short notice. It was a promising sign for future tours when we return.
It's also a while ago since you released the sensational "Portal of I" and the equally sensational Citadel – is there any new album on the horizon? If yes, what can fans expect? Which lyrical themes will be woven into the new song material?
We are always working on new material. With 6 talented members there is no shortage of ideas brewing in the NeO camp. I compose all the time and have many riffs in the vault. We don't write much on tour, so as soon as the tour is over we will get back into the rehearsal studio and start fleshing out these riffs and ideas. We have the skeleton of 2 songs in the works. I'm really excited to get back to it. Fans can expect the usual NeO sound. Extreme drums. Bass tapping. Shredding solos. Complex melodies and tonnes of dynamics.
Besides different and possibly more difficult circumstances to work on a new album, do you feel more pressure to fulfil fan / label expectations?
In some ways yes. There is always a personal pressure to make a better album and appease fans. Nobody wants bad reviews. But ultimately we write music for ourselves, not for other people. So if we stay true to ourselves as we always have been, and write music from the heart then we know we did our best and hopefully our fans will connect with new material just as they have with the past material.
As you have been travelling a lot recently – what is the most difficult aspect for you, the distance from family/loved ones, the day job (you either have to quit or can do via web/combine with some sort of freelancing), the lack of opportunities to rehearse as band / record new stuff (unless u do it a-cappella and via cell phone app)? The being-stuck-on-a-bus with same handful of dudes & different personalities for weeks/months? Besides a lack of certain sanitary comforts any traveller should be familiar with?
The most difficult aspect for me is everything (lol) I miss my girlfriend and my dog, I miss my guitars and my recording studio, my computer, my big bed, clean clothes, good home cooked meals and my local gym. You have to leave everything behind and literally live in a box on a bus 30 cms from your fellow band mates for 7 weeks. It's not easy and it can wear you down physically and mentally. You learn to adapt. Baby Wipe showers. Cheap take away. Microwave meals, public wifi to contact loved ones etc. But standing on stage and seeing the reaction on your fans faces makes all the hardship go away. It's all worth it for that 30+ minutes on stage. And getting to see the world is anyone's dream. I am living that dream and I am so grateful. And I know all the things I miss will be waiting for me when I get home.
What kind of sacrifice had everybody of you to make to get where u are? What jobs do you still have to juggle just to make a living? Or is anybody of you already on the "living from making music" level?
The list of sacrifices is endless. Matt just missed his Sons 2nd Birthday. I missed our 3 year anniversary. We are all unemployed. We have no jobs to return home to. I teach bass and guitar on the road to get by, but I havn't had a real solid job in nearly 2 years. Some occasional labouring work here and there. There is no point trying to get a career and saying to your boss "hey I need 5 months off this year to tour". It just won't happen. None of us are making money yet. But we aren't losing much money either. Things are getting better with each tour. I think after the next album we will start making small profits that we can take home.
Following you via Facebook and remembering what fans said after the gig in Helsinki  it seems u blow pretty much everyone away – but have you ever encountered a situation that fans totally hated you and tried to get u off stage ASAP just to watch the band u supported?
I can honestly say we've never been boo'd or yelled at or had tomatos thrown. I think if you don't like the music, you would just tend to go to the bar and drink or arrive late to see the band you really want to see. I did recently have a fan come up and say "I hate the violin but the rest of you guys were amazing" and he actually bought a shirt and CD haha.
What were the biggest difficulties you encountered travelling to different continents & countries so far – personally (e.g. food, local customs) for the band (e.g. stage, tech stuff)? Or just the travelling as such?
The biggest difficulties would be health care related and tech problems. Nothing severe but I got an eye infection in Europe and it cost me $300 all up to see a doctor. In Australia it would be free for me. and $5 for the medicine. And Troy our sound engineer got his finger slammed in the bus door. It looks really bad. But it's not feasible to see a doctor so he just bought a bandage and dealt with it best as he could. There is often minor tech problems on stage but we are quick thinkers and resolve the problem in a quick manner. Broken leads, wireless frequencies cutting out, string breaks, trigger problems etc. But we never let it deter from putting on a good show.
Brussels, Paris etc – how far have those horrible incidents affected your attitude to your profession / your passion, I mean have you ever experienced "fear of the crowd/some idiots in the crowd"?
The events in Paris happened a week after we played there. And the merch guy for COF had a friend killed in the massacre. So it was very emotional for all of us. All I could think about was "it could happen to any of us". We recently played the town where Dimebag was shot on stage and the same thoughts ran through my head. We never know when our time is up. Just have to remain positive and enjoy every day as it comes. Thankfully we are showered with positivity from fans.
Do you know something about future shows in Europe already?
We plan to come back to Europe later this year. We are working on some things. Nothing I can mention right now but it will be promising.     (Latest news can be revealed here – the band will be touring with Enslaved! The ed.)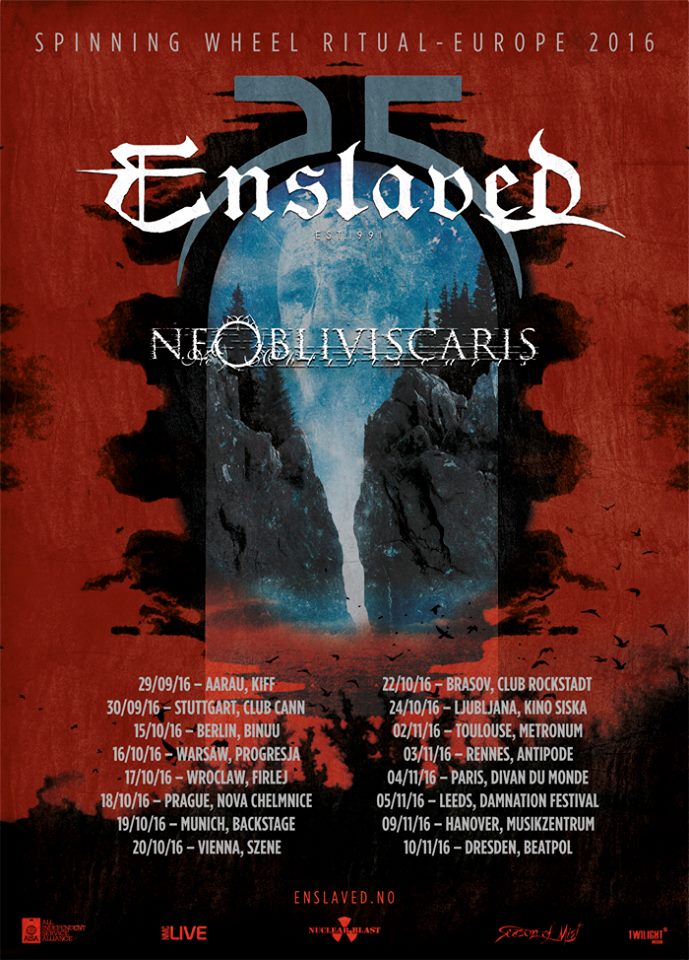 When you started in 2003, which dream from back then has been fulfilled in the meantime – which one is still ages away/feels unachievable?
When I first started I just wanted to record and album and play some local shows. I never thought I would be touring the entire world a decade later with 5 releases. That has most certainly been fulfilled. Earning lots of money and selling out arenas still feels unachievable. But we won't stop trying. That's not why we do this. But it would be nice and take the financial strain away. It's been a very long time since I had savings in my bank account. And at nearly 30 years of age, that's a bit worrisome.
What is the most annoying Australia-stereotype u had to face when meeting people in different countries (besides this plush Koala bear I forced u to pose with)?
The consistent annoying Stereotype is "do you have kangaroos and snakes everywhere like going through your house?" or "are dropbears real" my answer to them is that I've never even seen a snake. ( outside of a zoo ). The manager of Mcdonalds in Philadelphia asked me if we have streets and cars in Australia? She literally thought it was just a vacant desert…
What was the weirdest experience / culture shock for you down-under dudes so far (besides seeing snow for the first time when visiting Finland)? Which stereotype you discovered as totally confirmed / totally wrong during your journeys?
The weirdest experience was probably the poorer parts of China. They do some crazy stuff down there. like eat bbq Rats and Bugs and they drive really badly. I always had my eyes closed when in taxis. It was completely anxiety inducing to see other cars come within 5 cms of smashing into you. I saw a man hit off his motorbike. I'm pretty sure he was dead, and instead of people helping him, they were honking at him to get off the road! Honking at a corpse was definitely the weirdest thing I have seen. And as far as stereotypes go, Texas was the pinnacle of that. BBQ grill, Cowboy hats and $200 shotguns. It was great haha. I really loved Texas.
Has anything changed for you on home grounds, I mean do people see you in a different light now that you are "those famous musicians touring the world with COF"?
With each tour I guess people see us as "making it". or "rockstars". We are far from either of those things. We gained a lot of notoriety after our successful crowdfund campaign and playing the last Soundwave festival. Each thing we do gains us more fans, and expands our fan base. It's all a journey and you have to keep the wheels moving.
And finally: the invention/innovation that is still missing in your lives – which one and why?
Teleportation so I don't have to sit on a bumpy bus for 24 hours as we drove to Canada. That would be nice.
photos: K. Weber, band
* LET'S EMPOWER THE PEOPLE
The music industry is changing and we need to change with it. We have inherited a broken system that is no longer what it once was, yet has not found a definitive new way forward. A system where only the biggest of the big bands are able to make a living and the rest of us sacrifice our whole lives and risk financial ruin every step of the way. So where to from here? Well, we want to create an interactive fan experience unlike any band that has come before us.
Continue reading here