19.-20.07.2013, Mannin Navetta, Lieto, Finland
FRIDAY
The recession of the recent years seems to have taken its toll on festivals in Finland, and several smaller events, such as the legendary Pellavarock, have died and are sorely missed. Fortunately, there have also been a few newcomers giving it a shot, and in some cases, quite successfully so. One of them is Hammer Open Air, which was held for the fourth time this year and, in that fairly short time, has managed to establish itself as the foremost extreme metal festival in southern Finland. Its present venue is a rustic farmstead in Lieto, somewhere in the middle of nowhere albeit not too far from Turku.
Since the first day was a workday and we came all the way from Helsinki, we missed the first few bands; our arrival further was further delayed by the fact that we had to wait almost an hour for the shuttle bus that brought us from downtown Turku to the festival grounds. Apart from that, however, the shuttle service was well organised, as was the event as a whole.


The only long line was at the food stand; maybe there should have been two of them or at least a separate table for coffee. The layout of the area was compact and well-planned, and to improve matters even further, there was no designated beer area and drinking was allowed anywhere on the premises.
One of the bands we missed due to their early showtime was Horna, which was a pity since they did a nostalgia set with Nazgul on vocals and would have been well worth seeing.


We made it in time for another fairly legendary act, though, Morrigan from Germany. Since the duo consisting of drummer Balor and singer/guitarist Beliar performed without any additional musicians, the sound was a bit thin at times, which on the other hand placed more focus on the strong vocals. In addition to their current material, they also honored the memory of their former incarnation Mayhemic Truth with a couple of songs. The latter half of the set we listened to from the shelter of the beer tent, as it had begun to rain, but fortunately, the weather cleared up soon and remained nice for the rest of the weekend.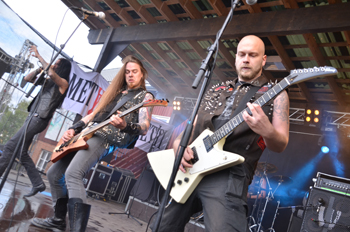 While Morrigan in terms of both outfit and sound brought to mind the almighty Bathory, it was the following band – Deathchain – that would actually honor them with a cover version, "Sacrifice". A bit surprising from a band better known for uptempo death/thrash metal, but maybe an indication of their future direction – the latest, fairly melodic album Ritual Death Metal undoubtedly has some black metal vibes to it. But genre discussions aside, Deathchain is is a great live band with tons of energy and were well placed after the comparatively static Morrigan.

Stormheit sounded better than expected – too bad Mr. Stormheit's nationalist (not to mention homophobic) stance makes it impossible to take the band very seriously, but on stage they're amusing rather than annoying, and their melancholic folk metal is admittedly listenable. Nevertheless, a few songs were quite enough and the temptation to join a few friends for a little break outside the gates grew too great to resist. Not every Finnish festival allows you to store your own booze at the coat check and help yourself to it outside of the premises as often as you like, but at Hammer this is no problem, an attitude we greatly appreciated.

Speaking of attitude, Sacrilegious Impalement certainly showed no lack of it. The Lahti-based troupe delivered raw, dark and brutal black metal, nothing more and nothing less. The only trouble is that they hardly differentiate themselves from the hundreds of similar bands, and upon this first live encounter, no song or moment stood out enough to commit itself to memory. But they sure did a good job warming up for the highly expected band that followed.

Which was none other then Norwegian legend Gorgoroth, which has not visited Finland very often in recent years. The microphone is currently manned by Taake vocalist Hoest – apparently his assignment is only temporary, but that didn't show from his stage presence. His fervour seemed to inspire the rest of the band as well, of which Infernus is the only remaining original member. The opener "Bergtrollets Hevn" was a clear statement of intent: the setlist was almost entirely dedicated to the first five albums, the only newer song being "Forces of Satan Storms" and that one is ten years old already. A new Gorgoroth album is currently in the making, but for their only summer festival appearance of 2013, this well-rounded nostalgia set was an optimal choice.

The home of the second last band of the evening is about as far from Norway as Europe stretches: Dead Congregation hail all the way from Greece. None of us had been familiar with them beforehand, which seems excusable given that they have published only one full-length album so far. Their solid death metal provided a bit of contrast to the black metal preceding them and the doom that followed, but after a couple of songs it was time for a little beer break in order to prepare for the crowning finale of the evening.

However serious Candlemass may be about never recording an album again (as they announced after last year's Psalms For The Dead), live on stage they showed not the slightest signs of fatigue. Since that album came out, they have changed vocalists, as Robert Lowe –who in turn had replaced Messiah Marcolini not too many years ago – made way for Mats Levén of Therion fame. He did a fine job both on the new songs, such as the opener "Prophet" and the magnificent "Waterwitch", and the old stuff, at the end of the set going all the way back to the 27-year-old "Solitude". It was a wee bit of a pity that no song from the excellent 2009 album Death Magic Doom was played, but with almost three decades of musical output to chose from and only 12 songs to fit in the set, something's got to give. All in all, an awesome set and perfect ending for the first day.
SATURDAY

Their legendary status as one of Finland's first noteworthy death metal bands would have justified a later slot, yet Abhorrence were forced to start their gig before 3 pm in the afternoon because only four hours later, their lead guitarist had to show up at the Olympic Stadium in Helsinki to open the show for Iron Maiden. Which proves that Tomi Koivusaari's decision to join Amorphis in 1990 instead of continuing with Abhorrence was not altogether wrong – yet the latter's reunion for three shows was a clear highlight of this summer, and at Hammer, they sounded even better than at Tuska. Given the energy of the band and the obvious appreciation from the crowds (ourselves included), it's a shame that no further gigs are planned at this point – but never say never…

Ram from Sweden, on the other hand, are rather unlikely to achieve cult status anytime soon. Sounding like a relic from the early eighties, would have been more at home at Sauna Open Air. Not downright boring, just not very original either, and far from memorable.

While Estonia's national treasure of folk metal, Metsatöll, invade the opposite shores of the Baltic on a rather frequent basis, their Latvian counterpart Skyforger doesn't honor us nearly as often. For their appearance at the Pagan Might mini-festival in Helsinki back in 2006, they had brought a veritable arsenal of folk and medieval instruments; at Hammer, they stuck to a common metal setup. A bit of a pity, but the set as such didn't much suffer from it and in fact covered their whole career. Like the audience, the band was clearly in a party mood, ever-grimacing bassist Zirgs in particular.

The party continued with Bulldozer, a thrash metal band from Italy with a sense for dramatic showmanship. However, the show elements were not as pronounced as at Tuska a couple of years ago; this time the focus was more on the music itself than on stage props. The result was admittedly less interesting in comparison, so it was a good moment for taking a little break.

While Bulldozer did not entirely live up to their name, the following band on the neighboring stage – for ultimate visitor comfort, the two stages were only a few meters apart – came on like a tank: Repulsion. The US pioneers only released one album, Horrified (1986), but it became one of the cornerstones of grindcore and the years haven't softened the band's touch by a bit. Scott Carlson and his two companions easily delivered the heaviest assault of the day, and although the band has stated they will indeed never record new material again, they sounded about as far from a nostalgia act as you can imagine.

Next on was the arguably most interesting, and certainly most exotic, band of the day: Sigh from Japan. The Far Eastern avantgarde metallers put on an impressive show both visually and musically, the natural focus being on the fronting duo. Stylishly clad in black and pink, Mirai and Mikannibal – reportedly, nowadays also a couple in private – shared singing, growling and bible-burning duties evenly. Mikannibal also played her saxophone on several songs, an instrument you wouldn't necessarily expect to hear at Hammer Open Air. But the band hadn't abandoned its black metal roots either, as demonstrated for example by "Desolation". Cool stuff!

Where Sigh was a positive surprise, Hell was totally expected to be awesome, and they didn't disappoint. David Bower deserves the prize for being the most charismatic vocalist of the weekend. Already at Tuska a couple of years ago, the professional actor had given a performance worth of Shakespeare, and in Lieto he was again in top form. Blessed with an outstanding voice, he wouldn't even need any gimmicks to impress, but of course the cloak, crown of thorns and other requisites heightened the dramatic effect even further. Fairness demands to mention that the rest of the band did a flawless job as well – it just was easy to overlook their merits while admiring the vocalist's extravaganza.

Secrets Of The Moon was another band we had been looking forward to, but between the true highlights of the weekend – and compared to their own earlier shows, for example at Metalheim 2011 – they remained strangely colourless. Maybe a club environment simply befits them better.

With Venom, it was the other way around: pre-gig scepticism soon gave way to unadulterated appreciation. They started in-your-face with "Black Metal", but fears that it would be downhill from there were unjustified. While it can be safely said that most of the sizeable crowd had come to hear the '80s stuff, the impact of the set was hardly lessened by the fact that about half of it was newer material. The energy of Cronos and his men might have been enough to keep us warm, but just to make sure, the band fired some generous pyrotechnics into the slightly chilly night air. An impressive closure for a great weekend!
Tina Solda & Leena Maunuksela, photos: Tina Solda, Chrissy Turpeinen
Contributors