Swallow the Sun / Callisto / Before The Dawn
Days before this event you might have seen me wearing a rapturous smile: Finnish melancholy is even better in (finally) summerly climate, offered by bands that are on heavy rotation in my CD player anyway… and it was the first day of the new Finnish law that prohibits smoking in restaurants. Question: Would Nosturi be concerned as well?

Before The Dawn
Question two: How would the old/new line-up turn out live? The hall filled up like for a headliner, and many wore BTD merchandise… well, basically it was not really a unified band, more the musicians as individuals, empowered by rhythm machine Dani Miettinen, who battered the ears of their fans with their highly melodic "Melancholic Scandinavian Metal". And surprisingly with a number of old songs: "The Black" & "Vengeance" of "4:17 am " Album, "Unbreakable" of "My Darkness" and "Black Dawn" & "Away" of "Ghost". "Deadlight" seemed a bit under-stated with "Faithless", "Morning Sun" and "Deadsong" (that just made it to Radio Rock playlists). Guitarist Juho Räihä was banging all the time, only Lars Eikind (clean vox, b) kept contact with the audience, even reacted with wonderful dry humour to their reactions, you got the impression that he is the boss. Live he also sang a bit rough, but sometimes his voice sounded too loud.
Mastermind Tuomas Saukkonen seemed even more withdrawn than at the Dawn Of Solace-gig (see STALKER Alliance festival review), he was totally focused on his music and sort of in another dimension. Only once, approaching the show´s finale, when spontaneously fans clapped their hands (this time even on the beat, I think the song was "Vengeance") you could, if you looked very hard, even see something like the shadow of a tiny little smile…

Callisto
Years ago I saw that band at Semifinal for the first time, and back then they were Melodic Death Metal guys from Turku. In the meantime Markus Myllykangas (voc, git), Arto Karvonen (synth), Johannes Nygård (guit), Juho Niemelä (b) and Ariel Björklund (dr) had turned to a more progressive musical path. Their third album "Noir" just came out: Very calm melancholic music with Doom influences, for me somehow too calm; very long songs with sophisticated solos that are almost instrumental versions, because (growl) vocals are used quite sparsely.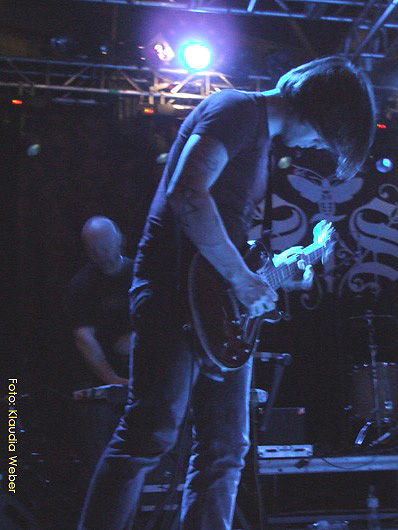 Their performance somehow reminded me of Pink Floyd, Opeth and also 70s Psychedelic Rock bands, their songs could have those powerful Metal Riffs much more often. Although there was not so much action on stage, taking pictures of the band was difficult, as they preferred minimal lighting and played one song even in complete darkness. And it was not just me who found the whole thing a bit too progressive, there were quite many nicotine addicts in front of the club doors when I joined them…

Swallow The Sun
When the headliner entered stage, the hall was packed and taking pictures a Kamikaze mission. I had seen those guys quite often, and basically their performance style has not changed: Singer Mikko Kotamäki hardly ever moves from his microphone, flanked by Aleksi Munter (keys) and Juha Raivio (git) respectively Matti Honkonen (b) and Markus Jämsen (git) who pose and bang their heads like hell. Still it gives you the goose bumps how STS perform their great mix of Doom and Melodic Death, catchy tunes and powerful riffs live.

The experience of an extended Europe-tour might have added more self confidence, because everything was much more intense and professional. Moreover, they played a good mixture of the more Metallic "Hope" album ("These Hours Of Despair", "Too Cold For Tears"), darker and slower "Ghosts Of Loss" material ("The Giant") and old hits ("Out Of This Gloomy Light", "Deadly Nightshade").


As a special surprise guest-vocalist Leeni-Maria Kristina Hovila alias Tinúviel entered the stage personally to join "Don´t Fall Asleep" (she is also the singer of Exsecratus, former STALKER Fresh Act), and then also the final song "Doomed To Walk The Earth". Still after almost 1,5 hours the audience wanted more, and the band came back to add (I hope I decipher my notes correctly) "Hope" and "Swallow", but after that the Twin Peaks – Laura Palmer theme marked the end of the show. Still the guys remained a bit to shake hands with fans – a likable band, and I cannot get enough of it!
Great show, only the smoking prohibition sucks indeed. Somehow it is like being back at school ("Smoking In The Boys Room"….) – and somehow something is missing, isn´t a rock venue supposed to be a bit smoky???