Moonspell – Tavastia, Helsinki 6.11.2015
How nice to be at Tavastia again, it's been rather too long. This club has been around since before I was born and for many years I saw more bands there than at any other venue, but in more recent times, metal gigs have become a rarity there. Not just for the sake of old memories was I glad to learn that Moonspell would come here on this tour but also because the place sounds better than Virgin Oil where they played last time.


Dagoba
There were three bands on the bill but the first played while I was still at work, so I only got to see Dagoba from France. While they are not as well known as their countrymen Gojira, the reference to the latter is not too far fetched – groovy death metal here, too, maybe a tad more industrial. Not really my kind of tea, but I was more engaged in socialising anyway. Moonspell is undeniably one of the more popular bands among my circle of friends.


My personal relationship with them has always been a bit on-off, but this year's Extinct has been one of my top albums of the year and I would even go so far as to call it my personal favorite in their long discography. When the band started with its video single "Breathe (Until We Are No More)" and the title track, I had the safe feeling that nothing much could go wrong with this gig. To put it mildly, we were in for a treat. The last Helsinki gig in 2013 had be great, too, but this one managed to top it by lengths. It marked a special anniversary for the band, as Fernando – in his introduction of "Opium"/"Awake!" – fondly recalled: 20 years ago Moonspell had stood on the same stage, supporting Type O Negative.


But nostalgia aside, after this pair of Irreligious tracks the band went straight back to the new stuff. The previous gig in Helsinki had been Moonspell's first here in many years and a venerable retrospective, but this tour has been focusing on the current album. Deservedly so, as the following trio of "Domina", "The Last of Us" and "Medusalem" confirmed. "Unjustly so", on the other hand – quoting Fernando here – had Sin/Pecado long been absent from the setlist, for which the band made up with "Magdalene" (which may or may not have inspired Amorphis' "The Way" back in the day). A nice song, but it paled in comparison to the next one: "Scorpion Flower", with Anneke van Giersbergen's part sung by Maxi Nil, whose band Jaded Star was the very opening act I had missed earlier.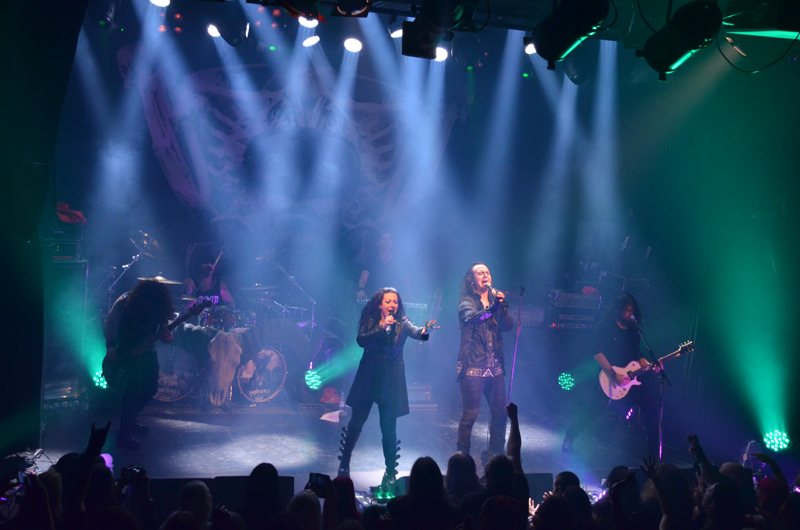 Probably would have liked it better than Dagoba, for a singer who comes close to upstaging Fernando Ribeiro is a force to be reckoned with. Other highlights of the 100-minute set were "Vampiria", which Fernando sang in a Dracula cape all bathed in blood red stage light, the classics "Alma Mater" and "Full Moon Madness" – which closed main set and encore, respectively – and perhaps most of all the hauntingly poignant "The Future Is Dark". At least for Moonspell, said future actually looks fairly bright.

Photos by Tina Solda – more pics here!
Contributors