July 14-16, Linnunlahdentie 3, Joensuu, FIN
So Friday began with a LONG bus journey from Helsinki all the way to Joensuu for what I've been told is THE Finnish festival…let's see!
Friday doesn't have the same format as the rest of the festival, it has only two stages, the Tähtitella stage, showing some pretty big names in the Finnish industry, and their Metal stage (Metalli-teltta) showing mainly up-and-coming Finnish acts.
So I thought I should check out the opening act of the festival, Tiisu, who seem from my initial impression to be a party band. This is proved to be the case, and chugging through an upbeat set, the crowd slowly gathers at the back where they can begin their weekends' drinking fest!
Photo – Särkyneet
The first band I actually had on my list was Särkyneet, a female fronted 5 piece with some swagger and a some pretty decent tunes. They didn't really draw the crowd in with anything spectacular, but given a couple of stronger tunes could be a band to look out for.
A quick trip across the site to see the artists everyone in Finland loves to hate, Stig. He's the first act not to be doing much live (mostly a guy pressing buttons with decks behind him and his 2 dancers). It's upbeat, it's fun, but it doesn't beat a  proper live show for my money.

Photo – Kesä
Next up is Kesä on the Metal stage. The front man has a hard stare and a passion about what he wants to say. The crowd is becoming more motivated and more gather as the set starts continues. Pretty good for a "small" band.
Photo- The Mutants
Again on the metal stage, but this time old-fashioned punk and roll (although more rock and roll to my ears) and this is The Mutants. A seriously tight live act who I've been meaning to catch for some time now. This 6-piece come with a percussionist and the frontman for this mostly instrumental set-up, playing keyboard. This band has style and manages to get people moving and grooving and marks the start of the festival-proper for me. Definitely a band worth checking if you have the chance.
Quickly over to the Tähtiteltta stage once again to catch the last 10 minutes of Chisu and boy, has the party picked up over there! Never an artist I've been a big fan of if I'm honest, her live show was much more exciting than her recordings would suggest. Fantastic light show and great musicians made this a better show than I had imagined and she really can sing live.
Unfortunately at this point the rain began to fall and I headed back to my tent (yes I said tent, I decided to follow the crowd for this weekend) to get myself a waterproof jacket. My sleeping bag proved too comfortable to leave and I decided to call it a night and listen to the rest of the evening from there (I was pitched right next to the metal stage, so not much problem hearing what was going on!). Unfortunately even this plan didn't work as after a close to 8 hour bus journey, my eyes closed and the rest of the day is history!
Saturday morning and it's still raining!
A quick shout out though to the 2 guys who decided to do a trumpet "fanfare" at around 10am, it was pretty cool and could have been better if the second guy could keep time or play the right notes!!
Photo – Kotiteollisuus
And so Kotiteollisuus start the first proper day of Ilosaari to rousing applause. Veterans of the Finnish music scene they have an air of knowing exactly what to do…and they do! Hard rock is their thing and they instantly take to the stage like a duck to water, lulling the crowd with a strong set of "hits" and much posturing.
Photo – Death Hawks
Back over to the smallish Metal Stage for Death Hawks next. A band I was very excited to see and they didn't disappoint. Prog-rock harking back to yesteryear is their thing and entering the stage with sparkly suits and (I presume) 70's wigs. These guys write amazing tunes and the audience knew it, large rounds of applause and a large crowd…these guys will go far.
Viikate were my next choice, playing the Main Stage, with 10 minutes to go there was no-one there… then the crowd came (and the rain, again!). There is something to be said of a 4-piece band full of middle-aged men…they rock! With a hard sound and more posturing (I think it will be my word of the day), they rocked the crowd and got the largest stage rocking for the first time this festival (the opening act had been SANNI, a Finnish bubblegum pop artist). Quality riffs akin to the more mellow Metallica days.
Saimaa are on stage 10 minutes before their set starts. This is partly due to the rain and cold, and partly because they were jamming along to the DJ system playing in front of the stage. There are so many of them the stage is filled. 3 drum kits, lord knows how many guitars, keyboards, and a sax/other similar instruments. This is world music, this is party music, and the crowd were not going to let the monsoon-like conditions spoil their fun with a large crowd dancing along and looking relieved that didn't have to stand and watch anymore rap or pop for a while!
Photo – Wolf Alice
After a break, it's off to see Wolf Alice who were having technical problems so took to the stage a little late. I've never been a huge fan, but they put on a good show and the audience enjoyed their live set. Took them a couple of songs to get into their stride and sort out all of the technical difficulties, but worth a visit.
Photo – Musta Risti
With the evening well underway I find myself at the Soundi Stage. Not really sure what to expect, Musta Risti take to the stage with an audience of about 15 people…which grows quickly. The singer has an intensity which is hard to draw yourself away from, which really is the saving grace of an otherwise quite average band.
Photo – The Ricky-Tick Big Band
The Ricky-Tick Big Band have been a long time favourite of mine (even if they do rap/sing in Finnish). Three of Finland's best-loved rappers backed by a full brass band and adding Julkinen Sana for this performance. Huge crowd dancing all the way through with the sun having come out shortly before they took to the stage.
Photo – TesseracT
TesseracT are in a league of their own. Backlit throughout, they tore through their back catalogue of prog-metal while all the while acknowledging their gratefulness to the crowd for being present. This was the band I wanted to come to the festival for, and man they stormed it!
Sunday was to be a much slower paced day for me, mainly due to a huge hangover garnered the previous night when meeting up with friends and continuing with new friends (always the sign of a good festival)!
So the first band of the day on my agenda was K-Y-P, a band featuring 2 drummers and a multi-instrumentalist/vocalist. I wasn't really sure what to expect here, but they were somehow a metal/dance crossover which worked really well. All 3 members of the band entered the stage dressed in black cloaks and slowly built up from cymbal solos to larger-than-life live sound over the next 4 minutes. Really refreshing band with something totally different to offer.
Photo – Maj Karma
Next was Maj Karma, one of the first Finnish metal bands I got into when I moved here over 11 years ago. These guys have one of the best frontmen in the business, and he quickly sets to work destroying microphone stands and generally causing the sound engineers and stage crew hell! Great music, charismatic band and a whole load of well-known songs which the audience laps up and joins in with.
Photo – Moonsorrow
Moonsorrow enter the stage, faces covered in (hopefully fake) blood and launch into a set of untamed rock/metal. Starting with quite a small crowd, it wasn't long before they had a packed house with the crowd loving their sound and their dress sense!
I needed to calm down a little after that, so popped down to the Soundi Stage for the final act of the festival there, the gruesomely named Lasten Hautausmaa (children's cemetery). They are nothing like their name would have you imagine, female fronted pop/rock which had quite a few dancing (albeit slowly). Sorry, this was a little dull as a stage closing act for me, I'll see them again in a different setting.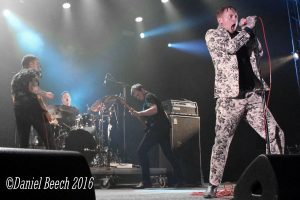 Photo – Frank Carter & The Rattlesnakes
Frank Carter got the nod to close the Metal Stage, and what a nod it was! This was the most energetic set of the weekend for the UK punk rockers, with FC throwing himself all over the stage and the bass and guitar players leaping and posturing throughout the set. This was truly a memorable show and for the second time in as many nights, the singer repeatedly thanked the audience for being a part of the show and coming to watch them.
Photo – Volbeat
Volbeat were the closing act on the Main Stage, not a band I was over-familiar with but thought I would check them out. These guys are crowd pleasers, with every chance to interact with their audience taken, and a band who knew how to play to the mass of photographers clambering for the ultimate shot. Musically nothing amazing, but certainly one to catch if you want the feel good factor of an experienced band.
Overall it was a well organised festival with great staff and an interesting mix of bands. Maybe a little too much hip-hop for my taste, but I certainly got my fix of rock and new bands during the weekend. Can the sunshine be booked for next year though please!
photos: Daniel Beech
Contributors