Children Of Bodom, Lost Society @ Tavastia
Octobr 25, 2018, Tavastia Klubi Helsinki, Finland
One is done, two more to go on this weekend – I am talking about three sold-out shows at the renowned Rock Club Tavastia in Helsinki, something that only a few Finnish bands can pull off. But actually not such a big surprise when it comes to those two bands in particular …
The only surprise here is that it started early, doors 19h, first band on stage at 19:45 h.

One of the reasons might have been the fact that audiences under 18 were allowed in – otherwise they cannot enter this club at all. And that's another thing I appreciate about those guys, they have always taken care of their youngest fans too!


On the other hand, it meant that the balcony with the bar for the adults felt like Sauna even before the show even started…
And what a show, once again a bunch of Thrash flea-circus madness unleashed by Lost Society which immediately set the crowd on fire – I simply let the pictures talk here (PHOTO GALLERY).
After a series of their well-known hits, e.g. "I am the Antidote" the band also introduced a new song  "My Absolution".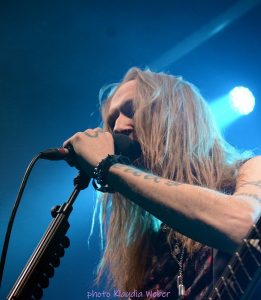 The changeover did not take long, and the main act did not only set the front rows into a frenzy, I saw many adult headbangers freaking out in the very back of the venue too…
Children Of Bodom naturally know how to make their fans happy. This time they did not talk too much or indulge in other nonsense activity on stage. It seemed they wanted to squeeze as many of their hits into the 1,5 h program as possible.  And that worked out nicely, although there might have been one or the other song missing that one or the other fan might have preferred to hear instead… Well, there's a lot of hits from those  20+ years of band history to choose from… not an easy task…
The encore was Britney Spears' "Oops I did it again" feat. guest singer Jonna Kosonen which definitely entertained the fans. I can only recommend not to miss those bands, and to get a ticket early…